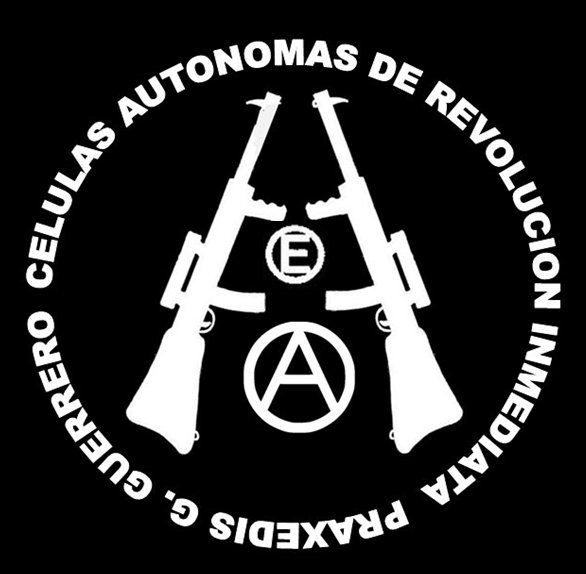 Personally, one of the things that shocks me about people who call themselves "pacifists" is their lack of coherence, or their ignorance, or their stupidity (or all those things combined). They talk about peace and pay taxes, finding it normal that those taxes fund military and police institutions. These pacifists are also governed by political parties that, in their agendas/programs, use violence (that is, accepted and democratized violence) to settle conflicts. . . .
How can there still be fucking pacifists in this century, when violence is everywhere?
—Compa Gabriel in his Diary*
Armed and Determined to confront the enemy in the face of any eventuality, a CARI-PGG cell left a delayed explosive device under an ASE (State Security Agency) state police patrol car in the early hours of September 17. The vehicle was located just a few meters from the state police precinct on Avenida Texcoco on the outskirts of Ciudad Nezahualcóyotl in the borough of Iztapalapa, Mexico City. We strongly hoped that, in addition to causing material damage, we would shatter the legs of some of those torturers of Humans and Animals, as a bit of revolutionary justice.
Why the ASE? The ASE, like any other police institution, directly protects Capital and the State. It's they that threaten our individuality and freedom. State police agents are known for the brutality with which they go about defending and protecting the citizenry. Through their counterinsurgency operations (e.g., Atenco in 2006), they are responsible for the deaths of comrades and direct abuses against subversive men and women. They protect the death camps called Prisons, and they are responsible for putting down prison revolts and then passing off that suppression in the guise of simple narcotics searches. They also guard the prisons known as psychiatric hospitals.
Occasionally, they have clearly demonstrated their feelings of power, inferiority, and absolute authority by torturing animals just for fun (e.g., the incident involving a dog hung from a flagpole in Ciudad Nezahualcóyotl), and in the past they have been attacked by other groups for the same reasons regarding animals. Such incidents show that they enjoy their job and are in no way honest, misguided workers, as many still claim in their defense. This is all reflected in the way they act and think, especially regarding the suffocation or repression of any attempt at rebellion, as minimal as those may be in the State of Mexico.
These insolent police unscrupulously abuse and torture, and we will doubtless be teaching them a good lesson directly on future occasions. For now, they'd better look under their patrol cars if they don't want to end up being blown to bits. This is black terror in response to their police terror.
This action, among others carried out in Mexico against the state police, was not reported in the mass media, which proves their complicity.
We don't need their propaganda or their endorsement.
We aren't defenders of anything or anyone but ourselves. We express solidarity and through this action declare ourselves individuals at war with the existent.
We stand in solidarity with the comrade prisoners of war from the Fire Cells Conspiracy in Greece.
We stand in solidarity with Tortuga in Chile and comrade Braulio Durán in Mexico.
We stand in solidarity with Tamara in Barcelona and José López in Madrid, who was recently arrested and charged with carrying out 32 attacks.
Solidarity is our weapon because this War is international.
Forward, comrades, with international anarchist coordination!
—Práxedis G. Guerrero Autonomous Cells for Immediate Revolution, Mexico
*Gabriel Pombo Da Silva,
Diario e ideario de un delincuente
(Madrid: Klinamen, 2006), 146